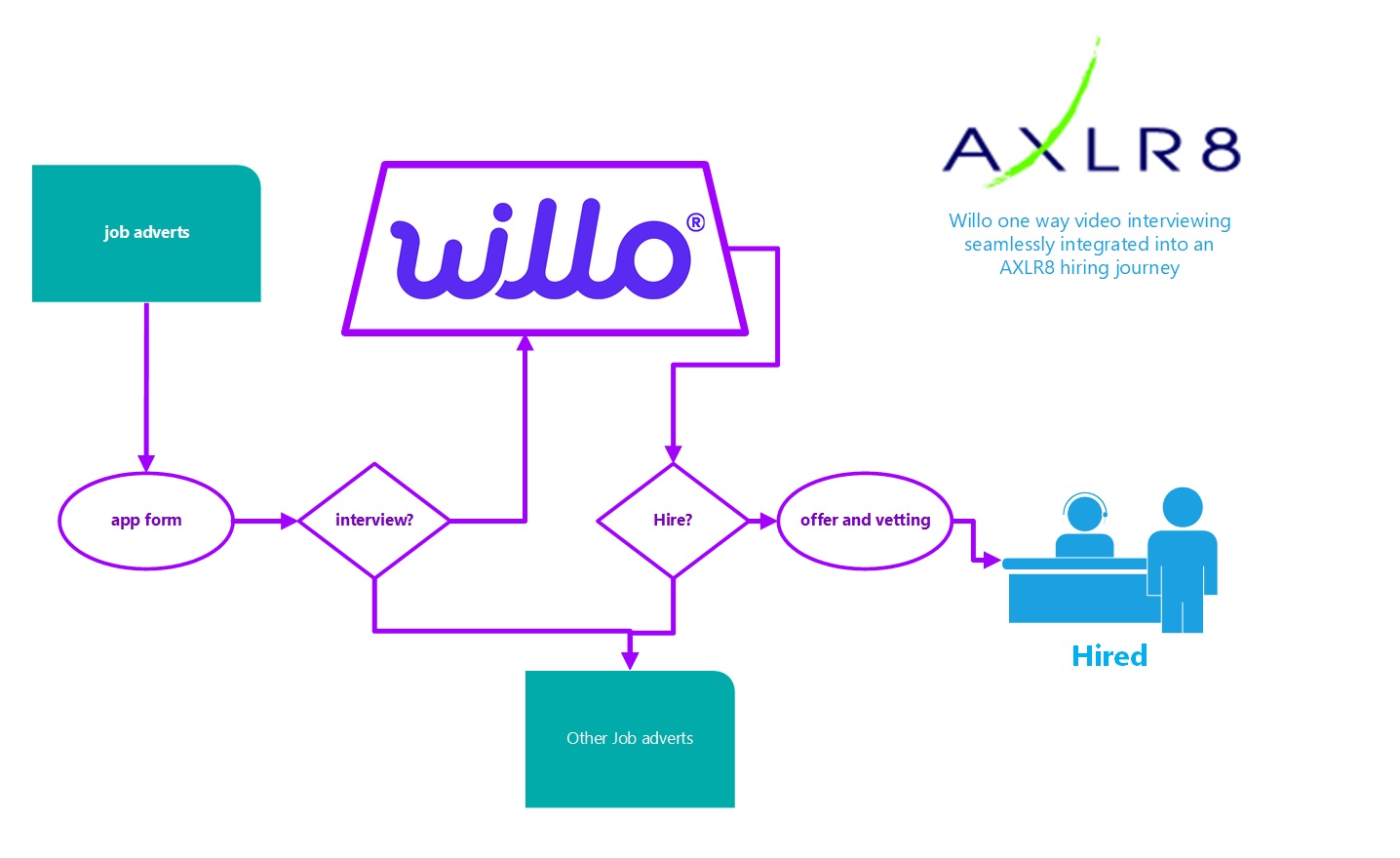 AXLR8 and Willo have announced a successful implementation and full integration of their two SaaS based Talent Management services used internationally by recruiters.
The AXLR8 and Willo systems team up to help you win the best talent – any time, 24/7.
AXLR8 based in Berkshire, provide staffing systems and their ATS (applicant tracking system) automates the recruitment process for tens of thousands of applicants every day. This provides a great experience for job hunters. The system can be constantly adapted and evolved to suit fast changing candidate market conditions. During the journey of an applicant in the AXLR8 system, a branch may be taken to attend one sided interviews in the Willo system. The candidates responses are than available for assessment by a talent manager in the AXLR8 system.
Willo based in Edinburgh, are known worldwide for their leading one-way video interview software to help fast-growing organisations discover and develop talented people. It is in use by 5000 organisations. Candidates are sent a link during their recruitment journey. When they click it, they are asked interview questions set and evolved by the hiring managers. The resulting video from candidates is available for review pre- and post-hiring. This saves many hours for a busy recruitment team.
We are such big fans of Willo. The implementation was easy and the tech stack just slotted together. The tech support was responsive and the whole process was as fun as the candidate journeys we have been jointly creating for our clients a year now.
For further information, please contact the respective companies.
AXLR8
01344 776500
info@axlr8.com
Willo
0161 768 3188
Woody@willotalent.com
Some useful links for Willo:
Short blurb about what Willo do: https://www.willo.video/media-kit
Willo integrations: https://www.willo.video/integrations
How Willo works and its benefits: https://www.willo.video/blog/async-interviews-are-the-future-of-hiring-remote-talent-heres-how-to-do-it-properly