A client Watsapp'd me on the weekend with this "champagne" problem. Her very successful and professional counter cover and retail staffing company is expanding fast after the pandemic.
Problem
There are staff you cannot pay because your company does not have their bank details. It sounds crazy but happens everywhere and often to great staff that you must retain in your business.
Don't worry, it is not that you are badly organised. Your field staff have plenty of other worries and sometimes their admin stuff falls behind. It's just life.
Solutions
This is a very common problem with temporary and seasonal staff agencies. Many solutions are provided by AXLR8 as options. Please talk to support about which would suit your business.
Before employment
Make it mandatory in an application form. This typically happens in the second or subsequent application forms. I.e. the candidate journey looks something like (missing out lots of other details):
Fill App Form 1 with basic information (contact points) rights to work, picture, basic skills questions. It is not appropriate to ask for bank details on this initial app form.
Accept and interview for language or other hygiene factors (or reject)
Job offer made but conditional on App Form 2 being completed which includes much more detailed and private information. Make Bank account details one of the mandatory questions explaining that it is for payment of their fees. On completion of App form 2, JAS is changed to "Job Offer Accepted".
This way, you know all staff entering your live staff bank have entered their bank details. It is secure as the app form responses are transmitted in encrypted form over HTTPS. (In simple terms there is a padlock on the site to give confidence to the applicant.)
Of all these options, prevention is better than cure. Some clients now are swinging towards item 3 above Build the question into a second application form and make it mandatory. The majority still wait till the employee is on the staff database of "live" or "active" or "Registered" staff before asking for bank details.
After Employment begins
For a variety of reasons staff are in your live staff database and have either no bank details or the ones thay have are wrong.
In that case, their bank details should be filled out on their secure Staff App.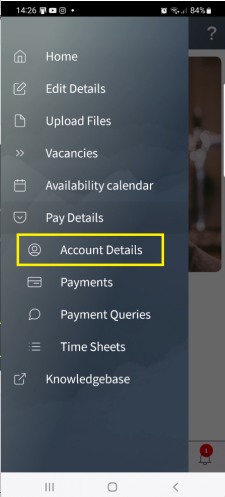 Before logging on to the staff portal: On their first login to the staff app you can add the tick box reminder to fill out bank details, perhaps next of kin/ emergency contacts and other important starter stuff. Just add it here using Terms and Conditions Admin.
Before first working: ask all staff in their welcome mail) to add their bank details on the app. Again, explain that they will not get paid (on time) unless the bank details are up-to-date. Let's assume a high percentage will comply with that understandable request.
Reminder once they have completed their first shift. You can create a report of who has completed one shift only (i.e. first shifts). Just add the columns for number of shifts, dates and bank details and sort by the bank details. Tick those with blank bank details and mail them. Remember not to include provisional and bookings where their attendance has not been confirmed. The best way is to pick those whose payroll has been submitted because that means your manager for that shift thinks they turned up and worked..
Payroll Processing Reports can have options switched on that highlight in red or orange those staff who do not have certain data. Typically, this is bank or NI number. Also a payroll number should be present for both self-employed contractors and your direct staff (called PAYE in UK). The implication is that direct staff have their tax and social insurance payments deducted by their employer in most jurisdictions.
What if they change their bank details?
Again, this happens more frequently than you might think. For example changes in personal circumstances, better interest rate, etc. and many other events can make someone change their bank details.
Their pay will go into the old bank account and this is normally enough of an incentive for them to change their details on your system along with others. AXLR8 clients have asked us include one or more of the following:
Export file of new bank accounts for the payroll department/ bureau
Trigger email sent to payroll to say a staff member with this payroll# has changed bank details
Anti-fraud:

Email to staff member to check they know it has happened (maybe they did not do it!)
A "duplicate bank account check" in case someone found a phone with an app still logged in or discovered the password and changed the bank account details to theirs. This happens with co-workers and people living or travelling together. So do not forget to schedule in reminders to staff about password changes, complexity and care.
If all else fails or you just don't feel like doing fancy workflow today, simply call them up, ask them for their details over the telephone and type their details into their Employee Admin screen!
In conclusion, please consider the above tools at your disposal and talk to your AXLR8 consultant to configure a system to reduce or even eliminate your issue.